Search in A.I.
The Process that solve the problem or find the path to reach a solution by computer itself.

The essential and fundamental way in solving the problem of A.I.

Techniques of solving problems




Direct Method : (ex : The Tower of Hanoi)




State Space : (ex : Puzzle Problem)




- Initial state -> Operation (operator) -> Goal state

The Basic Search Techniques




B

MA(British Museum Algorithm) : Random Search




Depth-fi

rst Search : The Searching to a deep point, gradually. (vertically)




*

Merit : Save memory.

Find the solution fast, though the solution is in the deep point.




*

Fault : Possibly go wrong way. The solution is always not the best solution.




Breath-firs

t Search : The method that search horizontally until meeting the goal node.




*

Merit : Find the best solution always.




* Fault : Need much time and memory, the step is going deeper.
It is based on human intuition but cannot be proved by logically and mathematically. (The Techniques that explained previous page are named a algorithmic Techniques.)
So closed to the human thought. Using a experiential knowledge.




*

Merit : Save much time and storage space.




*

Fault : Always not the best solution.



Simple Example - Traveling Salesman Problem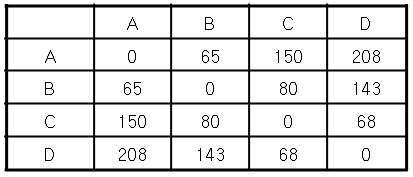 [The distance between two cities]
* The Answer by Heuristics : C-D-B-A-C

* This solution is not best but acceptable.

Application : Games(ex. Chess, Janggi), Natural language context processing, NP-Problem